You are here
UNFPA in Indonesia
UNFPA, the United Nations Population Fund, is an international development agency with a mission to "deliver a world where every pregnancy is wanted, every child birth is safe and every young person's potential is fulfilled".
These efforts are guided by the Programme of Action adopted at the 1994 International Conference on Population and Development (ICPD), UNFPA's global Strategic Plan 2014-2017, and Sustainable Development Goals 2016-2030.
UNFPA began its partnership with Indonesia in 1972 to deliver strengthened family planning services, demographic research, and population education programmes at schools. Today, UNFPA is one of Indonesia's most valued partners in reproductive health, youth, population and development, and gender equality.
As the world's fourth most populous country, Indonesia remains a priority country for UNFPA, but the terms of engagement now reflect progress achieved and the country's evolving population dynamics and level of development.
Country Profile
Indonesia, with more than 17,000 islands, is the largest archipelagic country  in the world.  Indonesia is a very ethnically and linguistically diverse country, with around 300 distinct native ethnic groups, and 742 different languages and dialects.[1]
Indonesia is a low-middle income country, with a GNI per capita of $3,630 in 2014. It is the world's 10th largest economy in terms of purchasing power parity and the largest economy in South East Asia. Indonesia has experienced improved standards of living, as a result of steady economic development in the past decades.[2]
Key Figures: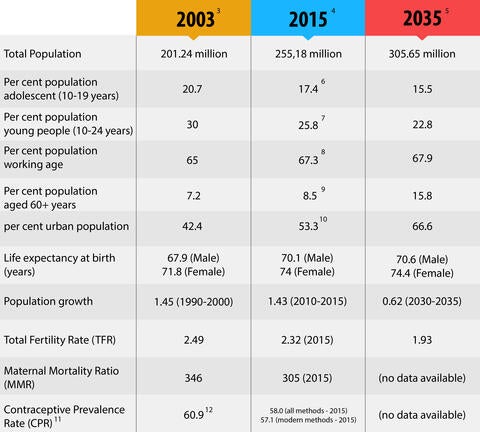 9th Country Programme (2016-2020)
The 2016-2020 Ninth Country Programme (CP9) between the Government of Indonesia (GOI) and UNFPA, the United Nations Population Fund, provides the framework for UNFPA's work in Indonesia. The Ninth Country Programme Document (CPD) was endorsed by the Executive Board of UNFPA on 30 June, 2015.
The Country Programme Action Plan (CPAP) 2016-2020 outlines the outputs and key strategies. It also describes the roles and responsibilities of the Government of Indonesia and UNFPA in the implementation of the Ninth Country Programme. The CPAP was signed by Prof Dr. Sofyan Djalil – Minister of National Development Planning / Chairperson of Bappenas and Dr. Annette Sachs Robertson – UNFPA Representative, on 29 March 2016.
The CPAP was developed based on the Ninth Country Programme Document (2016-2020), and United Nations Partnership for Development Framework (UNPDF) 2016-2020. It is also aligned with the national priorities conveyed through the Government of Indonesia Rencana Pembangunan Jangka Menengah Nasional (RPJMN) 2015-2019 (or the National Medium Term Development Plan 2015-2019).
CP9 focuses on the provision of advocacy, policy advice, and knowledge management for five outputs:
Maternal health and HIV-SRH linkages
Rights-based family planning;
Youth and adolescent sexual and reproductive health;
Prevention of gender-based violence and harmful practices
Population dynamics and data utilisation.
Partnership
UNFPA implements its programmes through partnerships with several Government of Indonesia ministries, departments and agencies including:
Ministry of National Development Planning / National Development Planning Agency (BAPPENAS)
National Population and Family Planning Board (BKKBN)
Ministry of Health (MOH)
Ministry of Women's Empowerment and Child Protection (MOWECP)
BPS-Statistics Indonesia;
National AIDS Commission (NAC)
National Commission on Prevention of Violence Against Women (Komnas Perempuan).
Additionally, UNFPA maintains active partnerships with other UN Agencies, other Government bodies, civil society organizations, faith-based organizations, the private sector, philanthropists, and youth and women's networks.
---
[1] wikipedia.org
[2] worldbank.org/en/country/indonesia/overview
[3] 2000 Indonesian Population Census
[4] Unless footnoted, data derived from 2015 Inter-censal Population Survey
[5] 2010-2035 Indonesian Population Projection
[6] Ibid
[7] Ibid
[8] Ibid
[9] Ibid
[10] Ibid
[11] Percentage of all women age 15-49 currently using contraceptive methods
[12] National Survey of Socio-Economy 2010 - Percentage of married women age 15-49 currently using contraceptive methods