For Balinese, Mount Agung is more than a just mountain. In rituals, it symbolises Mother Nature protecting the Island of Bali and its people. Most of the time, mother nature is quiet. However, in 1963, the volcano erupted and caused the deaths of more than 1,000 people. After 54 years, hundreds of small earthquakes and increasing volcanic activity at Mount Agung led Indonesian authorities to issue a SOS alert on 22 September, the highest level of alert. The Indonesian government quickly responded to the unpredictable condition of Mt Agung by evacuating locals living around the region. As of 6 October, 139,203 people from the immediate surroundings of the volcano were affected, evacuated and dispersed across 417 spots in 9 districts/cities. The Governor of Bali Province subsequently has extended the emergency phase up to 26 October.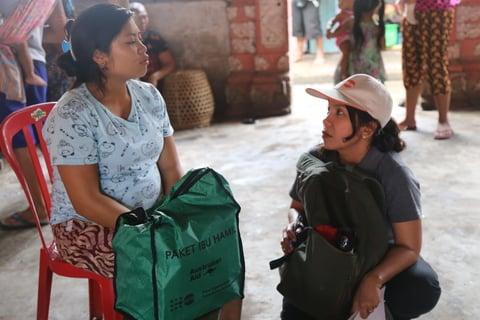 As part of the disaster response from national and international agencies, the Ministry of Health (MOH) and UNFPA Indonesia conducted a joint mission to Bali from 5-8 October. UNFPA Indonesia was requested to provide critical hygiene, maternity, post-delivery and baby kits to vulnerable, pregnant and lactating women among those affected and evacuated, as well as to support technically the government's coordination, preparedness and response efforts in reproductive health. Through funding from the Australian Department of Foreign Affairs and Trade (DFAT) for supplies, totalling over US$33,000, as part of the UNFPA-DFAT Regional Prepositioning Initiative, 1,200 hygiene kits, 480 maternity kits, and 160 post-delivery kits were distributed on 6-7 October. The MOH also distributed 160 newborn baby kits.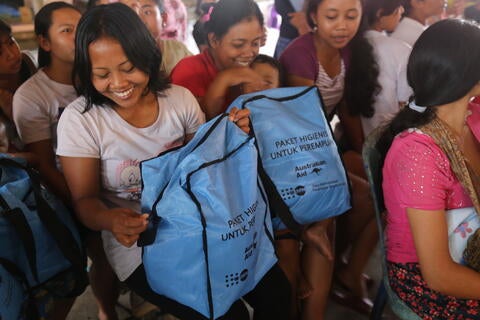 While kits, food and goods were arriving for distribution, Gede Sudelrdhi, an Expert Consultant for Disaster, and his team shared their thoughts. "I have been here for 12 weeks from 22 September until now, but I don't know how long will I stand by here. Let God answer as we can't predict the circumstance. Currently, the alert is at the top level to stand by to assist those affected and evacuated". Another person stated "What do we do here? Um...of course  we don't want the volcano to erupt, but we are here to prepare for the case of eruption. We help people and make sure they are safe." Yet another member of the team said "I am concerned...because from October to December is the rainy season. We should consider diarrhoea and other diseases as a result of insufficient clean water and living conditions in camps. Most of the people who are in the shelters are afraid to go back home, even though the government announced it is safe to go back home".
Stories from camps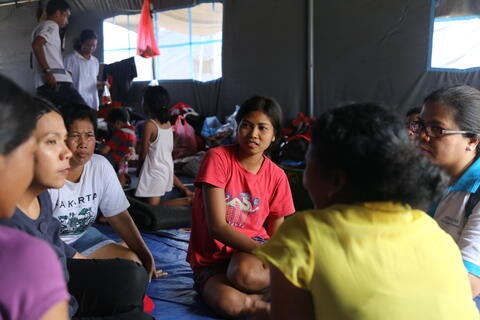 Women that we interviewed living in the camps expressed worry about Mt Agung's unstable condition. Their husbands usually go to their homes in the morning to take care of cows, chicken and their property and come back to the camp in the afternoon. Three of them felt happy with the quick response and assistance from their local government. They received daily food, health supplies, sanitary napkins and access for health, as well as had access to toilets in their camps. Komansari (30 yrs) just removed her intrauterine device (IUD), and hopes to have another child. They are living in the camp with 80 people, including a mix of women, men, children, as well as teenagers and young people.  They have been staying there since 2 weeks earlier, with no guarantee of when will they return back home.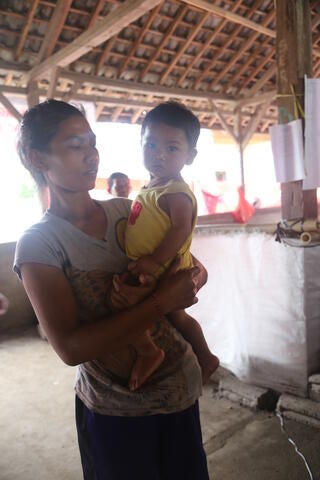 From another camp (Manggis 2), a woman  with her son also stated that "I'm happy about the government's support for the past 2 weeks to stay at the camp, but I don't know how to handle the condition if we have to stay here longer".
Challenges in uncertainty
In general, the basic needs of evacuees were provided mostly by the Bali government from a variety of sources. Their health appeared to be well looked after. While it is recognized that this is a transient and temporary relief effort, sufficient and adequate sanitation and separate safe spaces require attention if these are to remain as medium to long term camps.
All affected and evacuated persons in the area lived in one big camp, without any dividers to separate families or different groups. Women, men, young people and children were staying together. Currently, those living in the camps return back to their homes in the morning - to look after their belongings and livestock- and come back in the evening. For the longer term, consideration is being given as to how these camps will be maintained and managed.
For two weeks, it is manageable to address the short term needs such a large number of people. However, if the uncertain condition of the volcano continues, authorities are challenged with addressing many other needs of affected and evacuated persons.