An IDM2020 commemoration in Indonesia underscores midwives' lifesaving role – including at this time of COVID-19
It is hard to deny that midwives stand at the front lines of health care, particularly in reproductive health care.  I, for one, was born with the help of a midwife. When I delivered my son nine years ago, we both benefited from the help of yet another midwife.  Many of us have worked with midwives -- or at least have had our lives touched by them.  In fact, almost all of us have directly witnessed and experienced the great services provided by them in our lives.  Midwives are true, if often unsung, heroes. 
This year, therefore, we have paid tribute to them by commemorating the International Day of the Midwife under this theme:  midwives – celebrate, demonstrate, mobilize, and unite.  2020 is the Year of the Nurse and the Midwife, as declared by WHO, UNFPA and other partners. We celebrate midwives who play key roles in the provision of quality sexual and reproductive health care for women; in many parts of the world, midwives are instrumental in supporting women to exercise their reproductive rights. Midwives demonstrate their life-saving skills to keep both mothers and their babies safe during pregnancy and all the way through post-delivery. Midwives mobilize in many humanitarian emergencies, saving the lives of mothers and babies amid harrowing circumstances. When midwives unite, nothing can stop them, not even the current pandemic of COVID-19.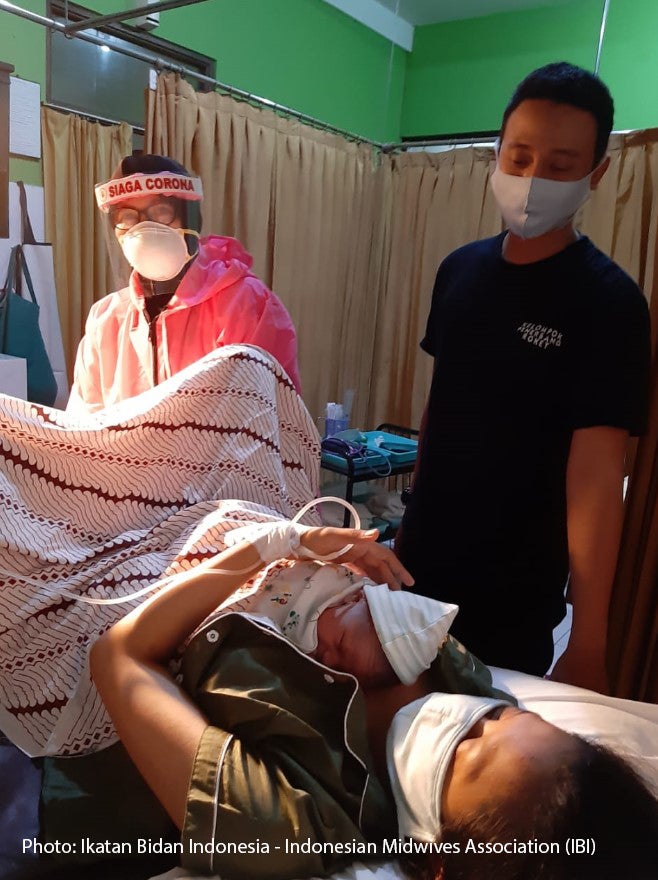 Here's a little story about Yuli, a 38-year-old woman in Biak, Papua, pregnant with her first child. She had visited a doctor to confirm the pregnancy. However, Yuli quickly felt lost and overwhelmed as she had little knowledge on issues surrounding pregnancy and her doctor was not communicative enough about her condition and what she needed to do. So, Yuli turned to a public health center, where she received respectful care from a midwife. There, she got clear information on her pregnancy, how to maintain good health, and what pregnancy checks awaited her ahead.  Yuli felt like she had been taken care by a good friend. She was given the midwife's contact number so she could consult her through WhatsApp. During a pandemic this helped her secure future appointments without having to join a large gathering of women at the health center.
On the one hand, pregnant women such as Yuli are facing similar challenges in accessing midwifery care, particularly during the COVID-19 pandemic. Midwives, on the other hand, strive to provide the best care they can but often leave their own safety as the last priority.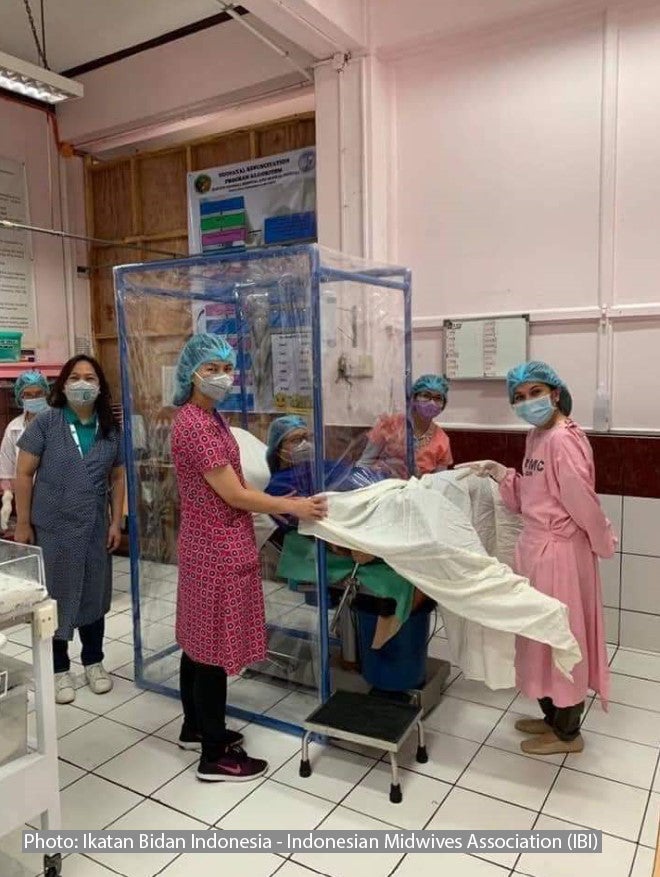 Therefore, UNFPA Indonesia has committed to supporting the Indonesian Midwives Association in reaching out to field midwives to ensure the continuity of midwifery care for women's reproductive health during the pandemic. One of the measures to attain this objective is online education.
A webinar was conducted on the International Day of the Midwife, 5May 2020, to share best practices and guidelines for midwives in responding to women's reproductive health needs during the pandemic with proper measures for infection prevention and control.
The event was held in collaboration with colleagues from the Obstetrician and Pediatrician Society, panelists from the Ministry of Health, the National Family Planning Board and UNFPA.  The webinar through Zoom and YouTube streaming received high attention from around 2,200 midwives from all over Indonesia – a country with hundreds of islands across a vast stretch.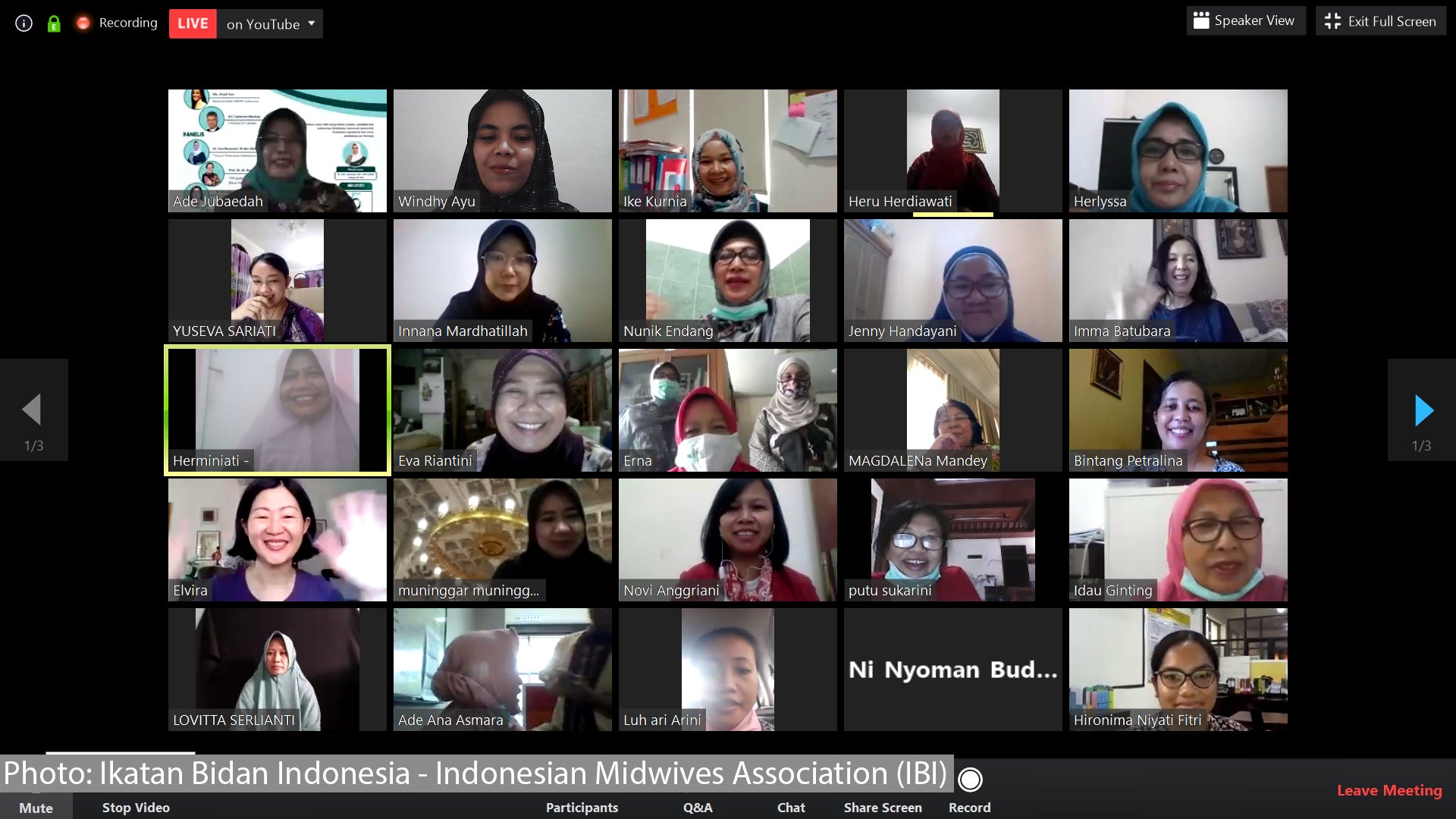 A post-webinar questionnaire on the topics presented during webinar, such as: what should midwives do when conducting antenatal care and what level of personal protective equipment (PPE) should midwives wear when attending a delivery, was launched and received responses from 2,040 midwives. For their attendance in the webinar and participation in the survey, they will receive e-certificates.  
In the coming months, UNFPA Indonesia will support midwives by providing PPE, capacity building on infection control, and also psychosocial support for midwives during this challenging time given the severe stress that all healthcare workers on the pandemic frontlines are experiencing in Indonesia and globally.
It is indeed heartwarming to see midwives, as our key partners in advancing reproductive health, come together in responding to the current pandemic while still maintaining the quality of care to serve women and babies.  Nothing is more gratifying for us than being able to contribute to helping our own unsung heroes – especially at this particularly trying time.
- Elvira Liyanto, Maternal Health Programme Analyst, UNFPA Indonesia
UNFPA, the UN's sexual and reproductive health agency, works in Indonesia and over 150 other countries globally to achieve zero maternal deaths, zero unmet need for family planning, and zero gender-based violence and other harmful practices against women and girls - a vision enshrined in the Programme of Action stemming from the landmark 1994 International Conference on Population and Development (ICPD).
To learn more about our response to COVID-19, visit www.unfpa.org/covid19
To support our lifesaving work amid the pandemic, visit https://donate.unfpa.org/th-en/covid-19