Tri was in the middle of facilitating an online class when she noticed her student Yanti (not her real name) looking down and clenching her fists. The 11-year-old student with intellectual disabilities looked as though she was in tremendous pain and discomfort. Concerned, Tri decided to visit Yanti at home to check on her. 
Living in a village in Jember, East Java, both of Yanti's parents spend most of their time working in a garment factory. Yanti's grandma is her primary caregiver at home. Despite challenges, Yanti's family has been drawing on all their resources to help Yanti to continue to attend a government-run special needs school online. 
It was during the home visit that Tri found out that Yanti was having her first period. It turns out that Yanti was terrified that blood was coming out of her body. She did not know what was happening to her and why she was in pain. She could not talk to her grandmother either due to the generation gap between them. Tri had to facilitate a face-to-face dialogue to identify this problem. 
Trying her best to provide Yanti with information and support, Tri felt like she was not equipped to support her students on reproductive health needs despite having certification for teaching students with special needs. "I feel like I am ill-equipped to deal with problems like this. I feel like I am dealing with these issues all on my own," said Tri.
Tri began to receive some support when she participated in a pilot programme by the Ministry of Education that provides training on adolescent Reproductive health education for teachers from 11 provinces. "It was my first time learning how to teach these topics to people with intellectual disabilities so that students are fully supported as they go through puberty."  
The training programme, which includes face to face training and online supervision, runs throughout 2021. The programme addresses the pressing challenges and violence faced by young people with intellectual disabilities in Indonesia. Implemented with technical support from the Ministry of Health, UNFPA, and Rutgers WPF, the pilot programme aims at equipping teachers with skills to deliver adolescent reproductive health education to students with intellectual disabilities. 
Safe space for teachers, protection for students 
For many teachers, the training was their first experience having a safe space to discuss the many challenges they face in realizing the rights of young people with intellectual disabilities. Tito, a teacher from Aceh shared, "It's tough. We don't know what to do when our students touch their genitals in class, for example. With so much taboo surrounding sex, it is hard for them to receive any explanation or support for their feelings." 
The safe space created in the programme allowed teachers to openly explore and learn from each other. They also discussed strategies to acknowledge and affirm reproductive rights of students with disabilities, and protect them from violence at the same time. "Affirming that sexual desires are natural while supporting students to explicitly identify their personal boundaries, the difference between public and private space and between a safe space and unsafe space is crucial," Budi, a teacher from Bandung, explained. 
While most teachers agreed that supporting young people with intellectual disabilities to identify personal boundaries is an enormously difficult task, they reflected that validating and acknowledging this as a challenge is a critical first step to take. "Each individual person with intellectual disability may have their specific adaptive challenges, but acknowledging these aspects of their personhood is the least we can do to support them," said Irma, a teacher from East Nusa Tenggara (NTT).
The training programme was also supplemented by several on-the-job learning sessions conducted online, during which teachers share and identify strategies to navigate the system and leverage support for their students. These sessions employ collective intelligence gathering methodologies and identify innovative and concrete ways for teachers to open a conversation surrounding the reproductive rights of their students.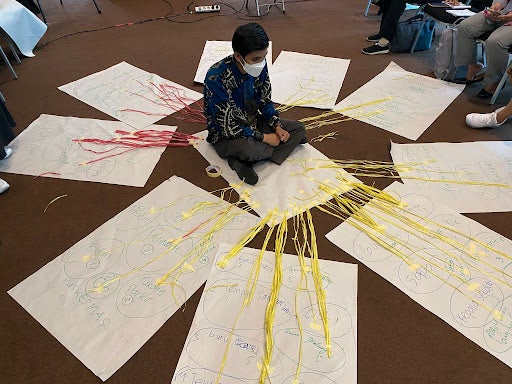 (Photo: Sandeep Nanwani/UNFPA Indonesia)
Preparing students to return to school
The programme was piloted at a very timely moment for students with disabilities where after a year of learning from home due to the COVID-19 pandemic, students were preparing to start going back to school. "This training could not have come at a better time, when we were starting to make sure our students can comply with health protocols, which requires our students to understand personal boundaries, and to be able to acknowledge other people's boundaries and  communicate." Emphasizing on rights, agency, and the bodily autonomy of people with intellectual disabilities, the programme allows teachers to explore practical applications of these concepts in the context of reopening of schools. 
The training programme, despite its initially limited scale, shows how committed the Ministry of Education is to supporting teachers like Tri in leaving no one behind. To support more teachers across the country in their enormous task to fulfil the rights of young people with intellectual disabilities, the programme will be replicated to other areas. UNFPA stands ready to support the government in this extremely important task. 
Sandeep Nanwani
Programme Officer for Adolescent Sexual and Reproductive Health (ASRH)
UNFPA Indonesia