PALU, Central Sulawesi, 26-29 March, 2019: At least 80 youth from hardest hit districts of Palu, Sigi and Donggala gathered at RRI auditorium to watch the screening of 7 youth film documentaries, that they helped develop with the technical assistance of Yogyakarta-based award winning film documentary director Tonny Trimarsanto.
These disaster-affected youth joined a training to make video documentary in February 2019 for youth advocacy to promote youth rights, engagement and youth friendly development programmes through film documentary. In the training, the youth learned video making tips and techniques, how to develop storyboard and to collect footages, using gadget that they are already familiar with: android phones. Palu-based Sinekoci film making community was also involved in the training.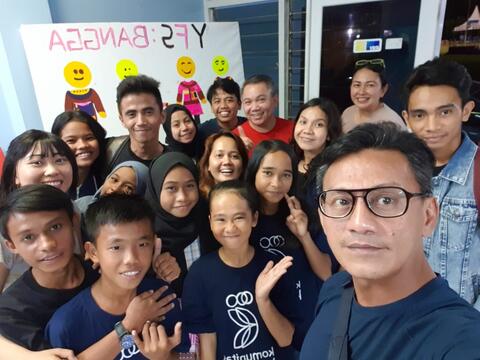 "They have a lot of potential and talents. Some have perceptive minds to highlight youth issues through their projects," Tonny explained.
Apart from the video making training, UNFPA and PKBI also held photo and song writing skills training, designed to empower youth to express their voices and ideas through photos, videos and songs for youth advocacy. In all these trainings, youth were sensitized on human rights and gender equality, so they can portray human rights and equality through the visuals and lyrics they develop.  
UNFPA Communication Officer for Humanitarian Maria Endah Hulupi emphasized the importance of youth empowerment for the wellbeing of individual youth and wider community. When empowered, youth can exercise their rights: to health, education, nutrition, access to information, freedom of expression, among others; make informed decisions for their own wellbeing and future; and be perceptive of various rights issues in their communities for advocacy. "They can identify challenges to address, come up with solutions and initiatives and document best practices to inspire other youth," she said.
A member of Sinekoci film community, Isnaeni Muhidin welcomed the initiative to use art for youth advocacy, saying art also plays important role to support healing process, especially in post disaster settings. "This activity is useful for disaster-affected youth to develop new skills and for psychosocial support to help them recover following the disaster," said Isnaeni, who is also a researcher from Disaster Mitigation Forum, referring to the September 28, 2018 earthquake, tsunami and liquefaction that devastated Palu, Sigi and Donggala districts.