PALU, Central Sulawesi, 12 October 2018: After the 28 September quake/tsunami, 48 year-old Yusri took shelter in a camp for displaced people in Vatulemo Park, Palu Municipality. 
"I wish I can do my routine activities but i have to admit that i'm still in trauma. My heart beats faster when i hear loud noises, even the sound of motorcycles and car engines make me jump up ready to run. It (the psychological stress) hinders me from carrying out my activities," she said.  Yusri, her husband,  and her two children, share a tent with 10 other families (about 3-5 people/family).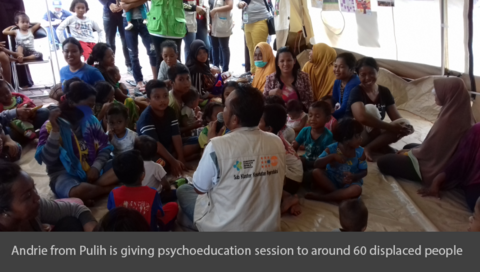 Yusri's family live
s
in
the
Maesa
a
rea in Palu, which is prone to earthquake
s
. There are
large
cracks on the ground
; one
local hotel collapsed because the ground underneath cracked during the earthquake.
The impact of the disaster left a lingering effect in the survivors' lives, many do not want to discuss it, and some even try to supress it.
"It's normal reaction (referring to Yusri's condition). After a disaster or emergency, survivors need psychosocial support and care from loved ones, and communities—some may need professional assistance," explained Andrie Daniel, Programme Associate from Pulih Foundation. Andrie and his team are organizing psychosocial activities at the Reproductive Health (RH) Tent in Vatulemo Park.
The need for psychosocial support for affected health workers should not be ignored
Psychosocial support is a top priority for all survivors, including for health workers, however, not enough atention is given to their psychological wellbeing.
"They too are affected (by the disaster), and the fact that they immediately go to the field to tend to the wounded and assist others in need of health services doesn not mean that they do not need (psychosocial) support," said Head of Public Health at the Provincial Health Office, Ilham Sunusi.
Preliminary estimates from the local health authority show that around 40% of health workers, such as doctors, nurses, and midwives, were able to immediately assist survivors within just a few days after the disaster. The rest of them may be among the fatalities, the injured, as well as those who fled the province.
Health workers who left have now returned to help strenghthen health service provision.
"They have demonstrated strong resilience. But they need support so they can cope, heal, live normally, and resume their activities in providing health services," Ilham said.
He explained that health volunteers are currently deployed from other provinces and organizations outside of Palu, but these volunteers are only there temporarily. "We need to ensure that our health workers are able to cope physically and psychologically. This activity (referring to the psychosocial support at the RH tent) is a good start," Ilham said.
Activities under the psychosocial support at the RH Tent include psychoeducation, counseling and prevention and management of Gender-Based Violence (GBV) services. Referral mechanisms will soon be established to ensure access to further assistance.
Apart from psychological support, the RH Tent provided maternal care, adolescent reproductive health services, and GBV prevention and management. The RH Tent is managed by the Ministry of Health and the Provincial Health Office-led RH Subcluster, funded by UNFPA and DfAT. It was visited by the Indonesia Vice President, the United Nations Secretary General, and the World Bank Representative, during their visit to Palu on 13 October 2018.