PALU, Central Sulawesi, 13 October:  Displaced people staying at the Vatulemo Park face difficulties in accessing basic humanitarian assistance.
Diana Patalau from Central Sulawesi Povincial Office for Social Affairs said efforts to distribute assistance is often hampered by a lack ofdata on displaced population.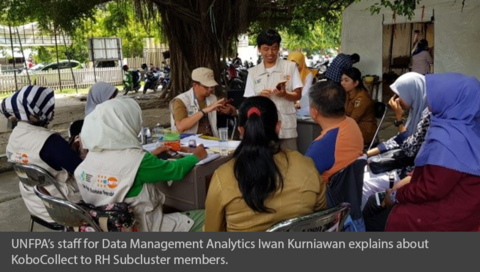 "Supplies of basic needs are actually available but there is no information about what to send, how many and where," she expalined, adding that availability of sex disaggregated data is important because women have specific needs
while
maintain
ing
their wellbeing whe
n
living in displaced people camps
, including menstrual hygiene
.
T
he National Disaster Mitigation Board,
and
the Ministries of Health and Social Affairs
, are gathering this data through a Displacement Tracking Matrix, with support from UNFPA and International Organization for Migration (IOM).
So far
365 enumerators and 30 supervisors from Tadulako University
have been trained
on the use of adroid-based KoboCollect application to collect data
on people who are displaced
in Palu City and in the districts of Sigi and Donggala.
"With reliable data availability, the government and all humanitarian organizations can properly plan for adequate services and supplies to address the vulnerabilities of quake affected population," said UNFPA's Advisor for Geospatial for Population Census and Humanitarian Pramudhiarta Narwawi.