Health is critical in the achievement of all Sustainable Development Goals (SDGs). Provision of quality health services is not only critical for the achievement of Goal No. 3 (Good Health) but also contributes to the achievement of all goals of the SDGs. Health services are very important for the three pillars of the SDGs: economic development, that includes reduction of poverty and hunger; social development that covers education and gender equality; and sustainability, to protect our environment and address climate change. This was the conclusion made during Plenary Session 3 of the Science Health Festival, organized by the Faculty of Public Health, University of Indonesia from 18-20 September 2017.
Speaking as a panelist at the Festival, Dr. Annette Sachs Robertson – UNFPA Representative in Indonesia, pointed out that the 2014 implementation of Universal Health Coverage (UHC) in Indonesia is a pathway to meeting the "leave no one behind" principle of the SDGs. "UHC applies to all citizens, without discrimination, enabling them to have access to quality health, including sexual and reproductive health services and information", said Dr. Robertson. She also added that "private-public partnership plays a strategic role in the achievement and sustainability of the UHC".
Prof Hasbullah Tabrani of the Faculty of Public Health of the University of Indonesia indicated that UHC minimizes the gap to health access among different wealth quantiles.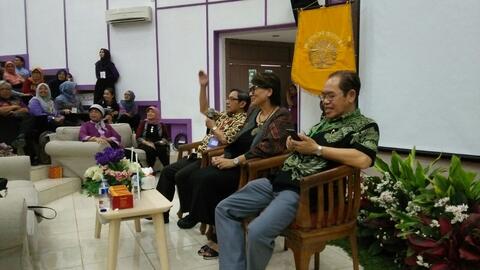 The Science Health Festival was a means of sharing experiences among faculty members, students, professionals and practitioners on public health related issues. The Festival consisted of several parallel sessions and three plenary sessions. The plenary session 3 of the Festival was moderated by Prof Anhari Achadi of the University of Indonesia.