PALU, Central Sulawesi, 25 March, 2019: With the lack of public awareness on gender-based violence (GBV), and women's rights issues in general, women and girls who experience violence often have difficulties to seek life-saving support they badly need. Strengthening intersectoral coordination and partnership involving women's empowerment and child protection, health, police, social rehabilitation, legal aid, community security and women NGOs are top priority for rights-based GBV management and prevention.
"Involvement of all stakeholders are necessary and they need to be equipped with the capacity to properly handle GBV cases, so women who experience GBV can get access to quality assistance, regardless to whom they come for help," said Wisnu Trianggono from Family Health Directorate, the Ministry of Health (MOH).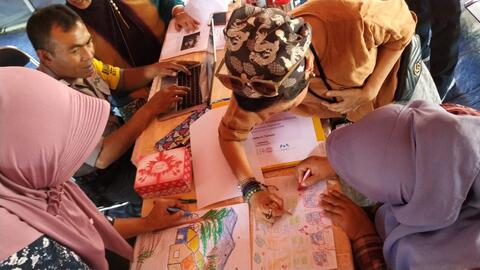 He made the remarks at the opening of MOH & UNFPA-supported training of trainers (for facilitators) on Clinical Management of Rape cases (CMR) in Palu, Central Sulawesi, attended by around 60 intersectoral stakeholders. After this provincial training, the participants will have the knowledge and skills to act as trained facilitators in their respective organizations and in intersectoral trainings in the future. Similar trainings for intersectoral stakeholders from Palu, Sigi and Donggala districts will be held separately, where the participants will join as trainers.
"This is the first of its kind training in the provincial and in national level. Apart from creating a pool of trained intersectoral facilitators, this hands on training also serves to strengthen coordination and cooperation among all GBV stakeholders to enable quick action for comprehensive intersectoral assistance for survivors," said Risya Kori UNFPA Gender Specialist.
The  Indonesian Midwives' Association (IBI)'s secretary general Ade Jubaedah encouraged midwives to take active role in the community.  "Midwives are the front line in service provision, we live among community members, interact with them and are there for the community, not just for maternal and child health. Those who are trained can now also provide sound health support for survivors of sexual violence, especially in emergencies," she said.