Every year on 5 May the world commemorates the International Day of The Midwife to highlight the crucial role of midwives in promoting maternal, newborn and child health. This day is dedicated to celebrating the achievement of midwives. It also aims to motivate policy makers in implementing conducive workforce policies and an enabling environment for midwives to practice their profession in recognition of their unique role.
Commemorating the 2018 International Day of the Midwife, Ikatan Bidan Indonesia (IBI), in cooperation with Integrated Midwives Association of the Philippines (IMAP), held an international scientific conference in Jakarta, Indonesia on 3-5 May 2018. There were 860 midwives in attendance at the Scientific Meeting, including 250 from the Philippines.
In this scientific meeting latest updates were discussed pertaining to midwifery care, both nationally and globally, by experts in maternal and child health. The 2018 conference also provided opportunities for researchers to present the results of their scientific research. The committee received 87 research titles. Of these, 33 of them were presented orally, while 47 were presented through posters.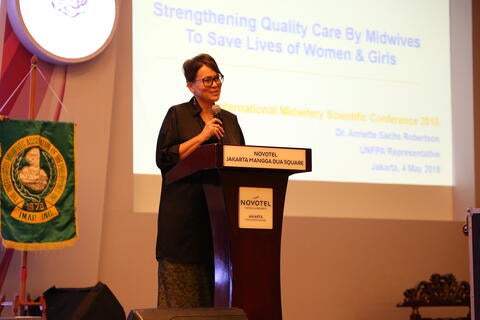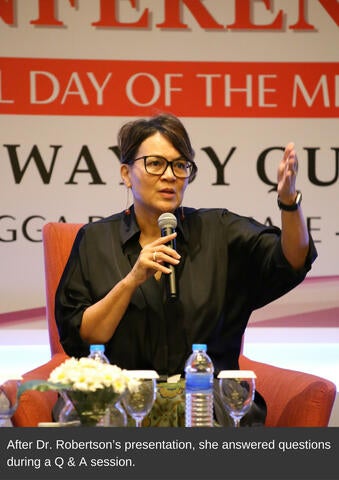 UNFPA Indonesia representative Dr. Annette Sachs Robertson provided a presentation on "Strengthening quality care by midwives to save lives of women and girls", followed by question and answer discussions with attended midwives. Dr. Robertson highlighted the crucial roles of midwives in promoting Sexual, Reproductive, Maternal, Neonatal, Child, and Adolescent Health (SRMNCAH) and reducing maternal and newborn mortality and morbidity. Dr Robertson encouraged them to continue to invest in providing quality and timely care. Her presentation provided an update on the status of midwifery in Indonesia and emphasised, with the latest data, why it is important to invest in educating and regulating the practice of midwives to adhere to international standards. Dr. Robertson also noted midwives' substantial role in contributing to the achievement of Sustainable Development Goals.