According to the Mongolian Information and Research Institute of Meteorology as early as November 2016, harsh winter weather hit Mongolia once again. By December, almost 50% of the country experienced heavy snowfall and faced a high risk of severe winter with extremely low temperatures, otherwise known as Dzud. Temperatures were threatened to drop as low as minus 50 degrees Celsius in Northern and Eastern Mongolia, and along with that came the high risk of losing thousands of animals which traditional herder families depend on for their livelihood.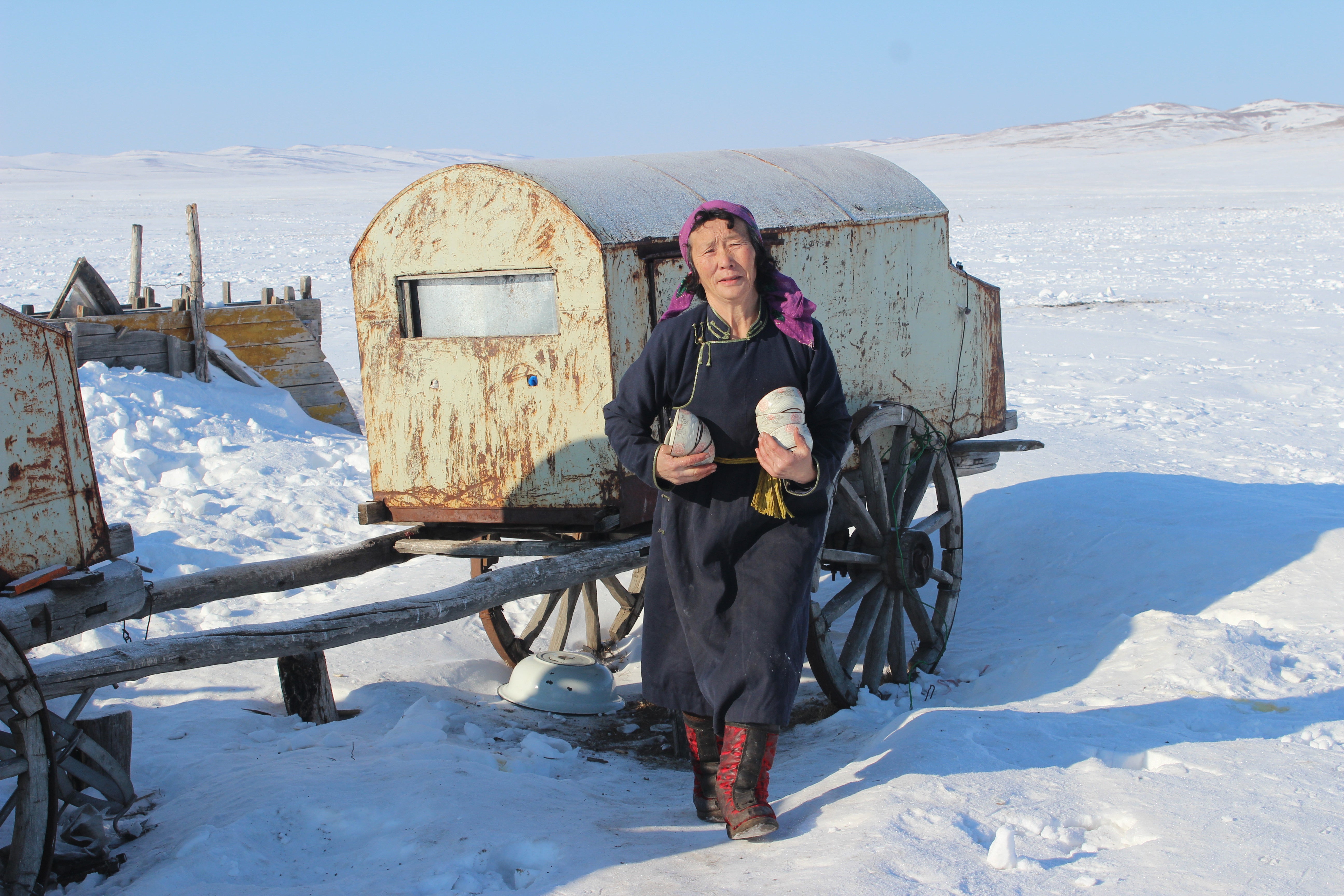 UNFPA recently participated in a multi-organization mission headed by the National Emergency Management Agency (NEMA), joined by several international NGOs and the Office of the Deputy Prime Minister, to distribute a relief package to herder families in the northern soums (districts )of Dornod and Khentii aimags (provinces). These areas have been particularly subjected to heavy snowfall this winter.
In addition to the food, medicine and blankets in the relief package, UNFPA contributed Dignity Kits specifically for the women and girls in these herder families affected by the extreme winter conditions this season. Dignity Kits contain sanitary products, toiletries, clothing items such as socks and underwear, all curated with the aim to respond to the unique needs of women and girls and to help them maintain a certain level of hygiene, well-being and dignity in face of difficult conditions brought by the near-Dzud conditions. Unfortunately, humanitarian situations can also bring an increased risks to the safety of women and girls. Thus, the Dignity Kits also included flashlights with batteries to allow women and girls to move about more safely at night, as well as whistles to use in case of distress.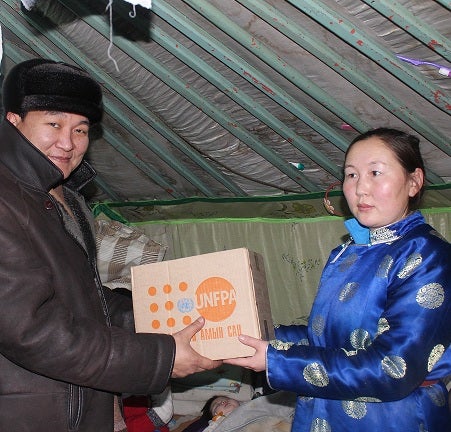 Apart from distributing the relief package to the families, it was an opportunity to engage with them and further grasp the conditions they have had to face, understand their challenges – particularly that of the women and girls more deeply, and appreciate their resolve to survive the worst.
For *Munkhzul, his wife *Munkhtsetseg and their 3 young children, the challenges came long before the Dzud arrived. "It was a very dry summer, "Munkhsteteg relates, "And after that, there was too much rain. This made it difficult to gather hay which we need for to store for the animals in winter." With their 320 heads of livestock and 11 cows in mind, that was a cause for worry. Early onset of winter also meant they could not take the animals to otor (or to find better grazing grounds) which impacts the animals' ability to survive the harsh season.
They took out what is known as "The Herder's Loan" from the State Bank, but low income returns from the slaughter of their sheep and goats in early winter has done little to alleviate their situation or promised a way out of debt. When warnings of impending Dzud came, many herder families made the decision to take their livestock suitable for butchering to market, flooding supply and causing meat prices to drop. "We did not get much from the sales," she shares. And as the snow came, markets closed or were inaccessible in the affected areas, which dealt another blow to vulnerable families such as theirs.
Like her, *Narantsetseg's personal concerns fall low on the priority list during these difficult times. When it comes to spending what little her family has, items like food and fuel come first. Certain commodities that the rest of the world takes for granted such as basic sanitary supplies become even rarer. While she uses commercially produced sanitary napkins, which are more sterile than other re-usable, traditional materials such as rags that make women more susceptible to reproductive health problems, she has to carefully ration her existing supply. On her most recent cycle, she only used 4, which is not nearly enough changes to prevent a risk of infections. But such considerations are set aside for now, as supplies dwindle, access is difficult and money to spend is tight.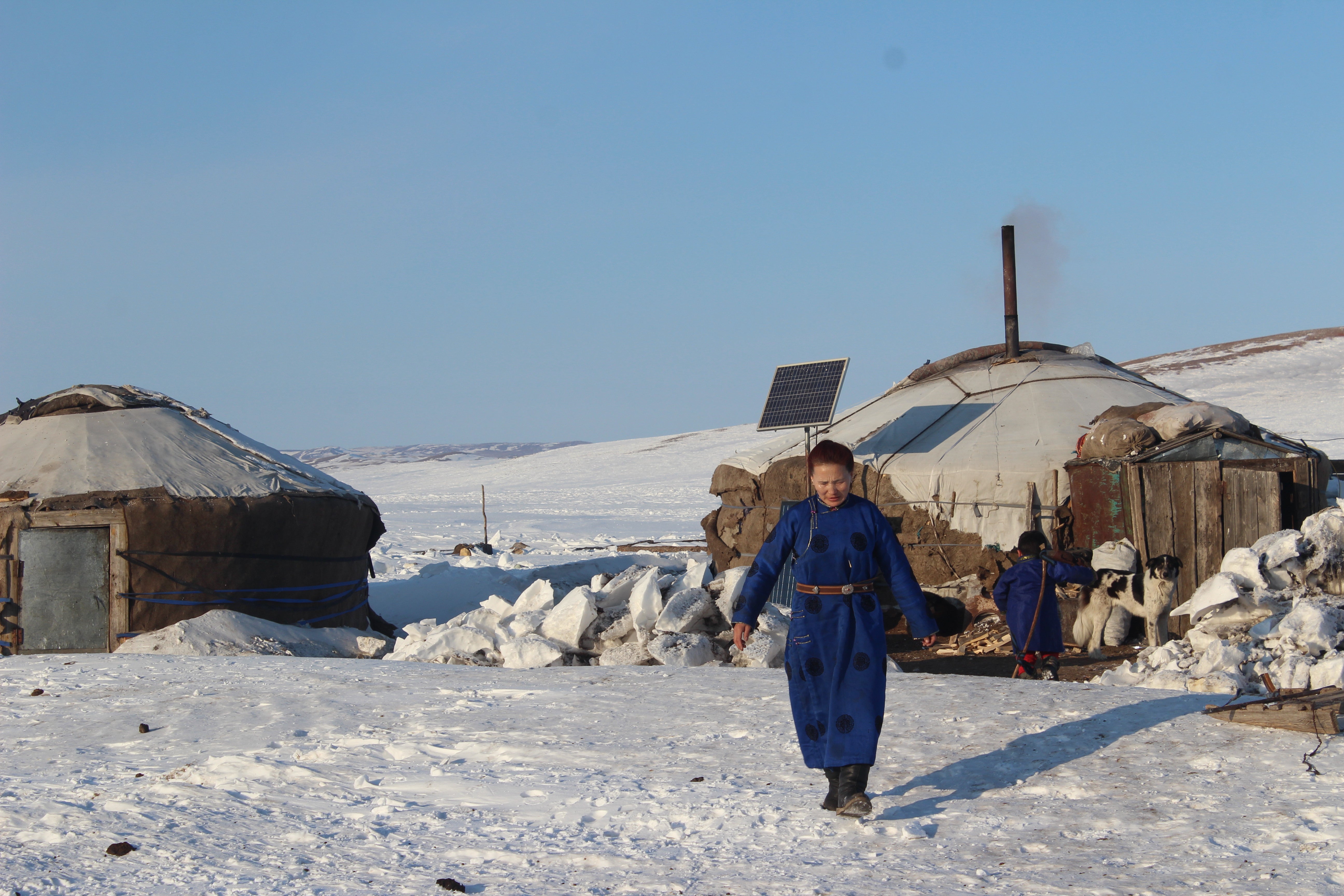 Unfortunately, this is not the first time women and their families in Mongolia experiencing near-Dzud conditions have had to deal with these realities. Last year's winter was also severe, which affected 965,000 people, mostly herders, and killed more than 1 million livestock – something from which many people are still trying to recover. The extremely severe winter for the second year in a row has been a blow to Mongolia's herder families.
In spite of these challenges however, families have managed to remain undaunted. As many of them agree, "This is all part of the herder's life." As is characteristic of Mongolia, families always managed to extend the visiting members of the mission with traditional hospitality. And as they gratefully received the relief packages, as with most herder families in these places hit by severe winter, they did so with the hope remaining that this might be a sign of better times to come. We saw resilience in herders' eyes.
*Names have been changed
By: Dr. Shinetugs Bayanbileg and Angelica Esguerra