Events
28 November 2017 - 29 November 2017
Yogyakarta, Indonesia
We are pleased to announce that Partners in Population and Development (PPD), the Government of the Republic of Indonesia and the United Nations Population Fund (UNFPA) jointly organizing the 14th International Inter-Ministerial Conference on Population and Development – "Sustainable cities, human mobility and international migration: A South-South Perspective and intervention needs" from 28 to 29 November 2017 in Yogyakarta, Indonesia (www.partners-popdev.org/imc2017).
Details
25 November 2017 - 25 November 2017
Global
The UN observes International Day for the Elimination of Violence against Women on 25 November. This observance raises awareness of the continuing toll of gender-based violence.
Violence against women and girls is one of the most prevalent human rights violations in the world. Globally, it is estimated that one in three women will experience physical or sexual abuse in her lifetime.
Details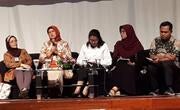 17 October 2017 - 17 October 2017
Malang, Indonesia
The launch of the 2017 State of World Population (SWOP) Report, will be organized jointly by University of Brawijaya, BKKBN, and UNFPA in Malang, East Java, 17 October 2017.  The launch will be attended by 350 policy makers and programme implementers from all provinces throughout Indonesia, academicians and a number of persons with disabilities. The SWOP report entitled "Worlds Apart: Reproductive Health and Rights in an age of Inequality" highlights inequalities in reproductive health and rights, its magnitude, challenges, and its possible solutions.
Details
Pages